Platform
Tour & travel have always been popular whether for business or for enjoyment. Through our Travel API the travel agents can use our web application to fulfill the travel related needs of their customers. By integrating this travel api with your own software solution, you as a travel service provider, can offer unbeatable travel related services to your potential clients. Our travel api enables you to perform numerous activities pertaining to travel consultation, searching for trip plans, seat layout, providing customized tour packages, booking tickets (airways, railways and roadways), cancelling tickets, generating reports for booking and cancellation, etc. Our end to end travel management technology solution enables you to offer unbeatable travel related services to your potential clients. We offer you a unproblematic base in the form of faultless travel related services which you can use to develop a strong customer segment for yourself.
India is booming industry, and with government inclined to digitize India under the national program 'Digital India', it has become quintessential for offline players to emerge from local players to a national or even an international player. Online Travel Portals provide the necessary foundation to build upon and augment growth within the company. With such ease of use delivered on the doorstep by travel portals, tourism sector is all set to rise and become competitive in coming times, the question one must ask is, 'Till what time can he afford to stay offline'.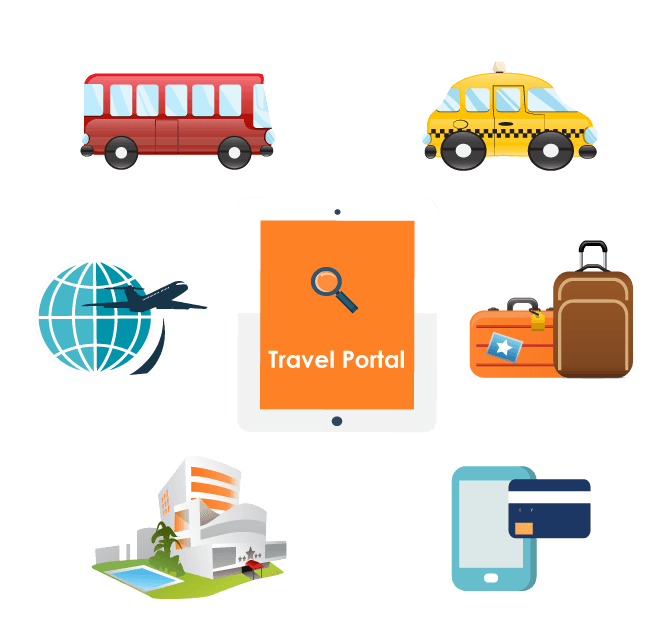 ICES BENIFITS
Travel Portal Solution Payment Gateway.
Travel Portal Solution Customer information page.
Travel Portal Bookings and cancellation Reports.
Travel Portal Solution One way and round trip Search, Search Results with all filters.
Travel Portal Solution Buses, Flights, Hotels, Cars, Holiday Travel Services Book.